SACRAMENTO VALLEY COIN CLUB
WE HAVE SCHEDULED OUR
2024 SPRING COIN SHOW!!!!
April 25th, 26th & 27th 2024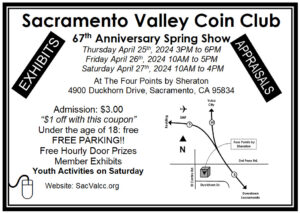 Click Here For Bourse Application
Dear Dealer,
Attached is the Bourse Application for the Sacramento Valley Coin Club's SPRING 2024 THREE DAY COIN SHOW which will be held at FOUR POINTS BY SHERATON HOTEL, 4900 DUCKHORN DRIVE, SACRAMENTO, CA. 95834 (map it here). The Hotel is located north of downtown Sacramento, just west of Interstate 5, ten minutes from Sacramento International Airport and the hotel has plenty of free parking. The Hotel provides free shuttle service to and from Sacramento International Airport for any dealers staying at the Hotel.
Click Here For Updated Rules & Application
Your assistance in getting the word out to your customers about the show would be greatly appreciated. A DEALER DONATION TO OUR HOURLY DOOR PRIZES WOULD ALSO BE GREATLY APPRECIATED.
Robert (Bob) Shanks, a past President of the SVCC is the overall show coordinator. Completed Bourse applications with payment should be sent to Robert Shanks, 460 46th Street, Sacramento, Ca. 95819 Contact Bob at 916-204-5168 or email: [email protected] if you have any questions or suggestions regarding the show.
The SVCC wants to thank you for your past support of the Sacramento Valley Coin Club. Our Club is committed to working hard to make our coins shows a success for all involved.
Sincerely,
Sacramento Valley Coin Club